Verifone Omni 3740
Verifone Omni 3740
---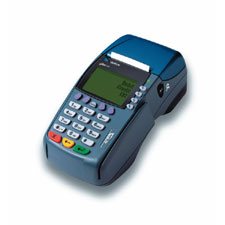 $345.98
No account or service required!
Availability:
Out of Stock. Permanent or unknown future availability!
Part Number(s):
---
Item Notice:
The Verifone Omni 3740 has been discontinued, and is no longer available. The Verifone Omni 3750 is available as a replacement for $325.98.
The new Omni 3740, the little brother of the Omni 3750, by Verifone is already becoming a best selling credit card machine. Its very small footprint and multiple advanced features makes it a very desirable processing machine. The 8.3" x 4.1" x 3.3" size, roughly the size of a check book, will fit virtually anywhere, and with advanced features like a thermal printer, and integrated PINpad for debit transaction, the Omni 3740 may be the most versatile credit card machine we have seen to date. The Omni 3740 can also be used with a docking station for processing over an ethernet connection for the fastest processing speed available. The Omni 3740 is identical to the Omni 3750 except it lacks the smart card reader, and has a lower price tag.
Verifone Omni 3740 Key Features:
Compact, all-in-one design preserves counter space and reduces clutter.
Lightweight, highly ergonomic device is ideal for handing to customers when a PIN or other input is required.
Intuitive ATM-style interface, 8 x 21 backlit display with split-screen capabilities and large keys reduce clerk training and help desk calls.
Integrated, high-speed thermal printer features "clam shell" design for "drop-in" paper loading and virtually no paper jams.
Triple-track, high-coercivity card reader is included at no extra charge.
Hardware- and software-based application separation eliminates re certification when adding or modifying software.
Omni 3740:
The Omni 3740 packs all of the features most merchants will ever need into a small unit with a reasonable low price tag. The omni 3740 is a small miracle-combining magnetic stripe, PINpad, and graphics-capable thermal printer into a device with an amazingly small footprint. The ergonomic design not only saves precious counter space, but also can be easily handed over to customers for PIN input.
Like all VeriFone terminals, the Omni 3700 family requires little training-saving hours of hand holding and help desk time. The familiar interface puts needed functions at clerks' fingertips. Lastly, the "clam shell" printer features trouble-free, "drop-in" paper loading to virtually eliminate paper jams.
Verifone Omni 3740 Specifications
Microprocessor:
32-bit microprocessor.
Memory:
1.5, 3 or 4 MBytes.
Display:
128 x 64 pixel LCD with backlighting; supports 8 lines x 21 characters, including graphics.
Magnetic Card Reader:
Triple track (tracks 1, 2, 3), high coercivity, bi-directional.
Keypad:
3 x 4 numeric keypad, plus 8 soft-function keys and 4 screen addressable keys
Peripheral Ports:
Two RS-232 ports and 1 telecom port support peripherals.
Printer:
Integrated thermal printer with graphics capabilities, 12.5 lps, 24/32/42 columns; standard roll paper 58 mm (2.25 in.) x 25M.
Omni 3740 Communications Module
Dial:
Bell 103/212a; ITU V.21/V.22/V.22bis/V.32/V.32bis — 300/1200/2400/9600/14.4 kbps; V.42 LAPM error correction.
ISDN:
DSS1 (Euro-ISDN) or 1TR6 (German National ISDN) ITU— V.110/V.120 in B channel; X.75, PPP, or HDLC in B channel; X.25 in B or D channels; X.31 in D or B channels (9600/64000 bps); ML-PPP (PAP or CHAP—MD5 or Microsoft CHAP variants).
10BaseT Ethernet (Optional Adapter Required):
Standard RJ45 connection; supports general internet protocols: FTP, TCP/IP, UDP DNS, SMTP, POP3, MIME, HTTP, and Telnet; LAN internet protocols: ARP, ICMP and DHCP; 10 sockets (2 server sockets), AT+I application-level commands, SerialNET transparent session. Internet Security: SSL modem: Bell 103/212a, CCITT V.21/V.22/V.22bis, 300/1200/2400 bps, synchronous and asynchronous.
Protocols:
Application selects between asynchronous protocols (Visa 1, Visa 2, and others) and synchronous protocols (including ISO 8583/SDLC).
Security:
3DES encryption; DUKPT and Master/Session key management; PED certified; VeriShield file authentication.
Physical:
Length: 210 mm (8.3 in.)
Width: 104 mm (4.1 in.)
Depth, includes printer spool: 83 mm (3.3 in.)
Weight: 760g (1.7 lbs)
Environmental:
0° to 40° C (32° to 104° F) operating temperature;
5% to 90% relative humidity, non-condensing.
Voltage:
100–240 VAC, 50/60 Hz, DC input 22–26 VDC, 1.5 Amp.
Verifone Omni 3740 Guides and Downloads
(These open in a new window).