Verifone Omni 3300
Verifone Omni 3300
---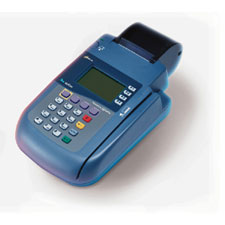 $425.98
No account or service required!
Availability:
Out of Stock. Permanent or unknown future availability!
Part Number(s):
---
The Verifone Omni 3300 is a new all in one terminal from Verifone. Currently we and many other merchant service providers do not support this terminal, so please check with your current merchant account provider before ordering.
VeriFone Omni 3300 terminals were created for today's complex, challenging payment environment. Featuring a fast 32-bit processor, 14.4-Kbps modem, multi-tasking capability, high-speed thermal printer, and up to 3 MB of memory—the Omni 3300 delivers exceptional performance in a compact, easy-to-use terminal.
Taking full advantage of VeriFone's next-generation Verix operating environment, the Omni 3300 solution securely supports and runs multiple applications in a single device. Our unique implementation of application separation at both the hardware and software level reduces the need for time-consuming and costly re-certifications when adding or modifying applications. Further, VeriFone's exclusive VeriShield security architecture offers sophisticated file authentication capabilities that prevent the execution of unauthorized software on the terminals.
Benefits at a Glance
Securely supports and runs multiple applications on the same terminal
Intuitive ATM-style interface minimizes training and reduces help desk calls
Powered by SoftPay software, which delivers a broad range of payment capabilities
Provides investment protection through future-proof upgrade path
Exceptional Performance
32-bit processor speeds transaction time—from card swipe to printing of receipt.
Multi-tasking capability allows merchants to run multiple functions simultaneously, such as printing a report and processing a transaction.
Integrated, high-speed thermal printer with covered paper path virtually eliminates jamming and produces receipts Magnetic Card Reader at 12.5 lines per second. Exceptional graphic-handling character-based languages.
Combination of Omni 3300 and VeriTalk software accelerates downloading and batch settlement through the use of a 14.4-Kbps modem and advanced file compression.
Lower cost of ownership and superior security
Multi-application support allows payment and non-payment applications to run securely on a single terminal.
Up to 3 Mbytes of memory and dynamic memory allocation improve efficiency and maximize the number of applications that can be placed on a single terminal.
Application separation at both the hardware and software level minimizes or eliminates the need to re certify existing payment applications every time an application is added or modified.
Flash memory enables remote downloads of applications.
VeriShield security architecture offers unique file authentication capabilities.
Modular architecture accommodates a broad selection of peripherals and provides an easy upgrade path. Optional LAN support is available.
Unbeatable ease of use
Intuitive ATM-style interface, large 8 x 21 backlit display and extra-size menu prompts virtually eliminate training and reduces calls to the help desk.
Sleek, compact design reduces clutter and saves precious counter space for merchants.
Triple-track, high-coercivity card reader handles most magnetic stripe cards including new drivers' licenses.
VeriFone's powerful SoftPay software is supported, offering an array of turnkey payment solutions for North America Latin America/Caribbean merchants in a variety of industries.
Omni 3300 SPECIFICATIONS
Microprocessor:
32-bit microprocessor.
Memory:
1 Mbyte of Flash memory (expandable to 2 Mbytes).
512 Kbytes of SRAM (expandable to 1 Mbyte).
Display:
128 x 64 pixel graphical LCD with backlighting; supports 8 lines x 21 characters.
Card Reader:
Triple track (tracks 1, 2, 3), high coercivity, bi-directional.
Keypad:
3 x 4 numeric keypad, plus 8 soft-function keys and 4 screen-addressable keys.
Peripheral Ports:
Two RS-232 ports and two telecom ports support peripherals including PINpads, check readers and bar-code wands.
Printer:
Integrated thermal printer with graphics capabilities, 12.5 lines per second, 24/32/42 columns; paper 58 mm (2.25 in.) standard roll, single ply.
Modem:
High-speed dial modem (Bell 103/212a, CCITT V.21/V.22/V.22bis, 300/1200/2400/14400 bps, synchronous and asynchronous).
Protocols:
Application selects between asynchronous protocols (Visa 1, Visa 2 and others) and synchronous protocols (including ISO 8583/SDLC).
Security:
VeriShield file authentication.
Physical:
Height: 75 mm (2.95 in.)
Width: 146 mm (5.75 in.)
Depth, includes printer spool: 292 mm (11.5 in.)
Weight: 1.1 kg (2.4 lbs)
Environmental:
0° to 40° C (32° to 104° F) operating temperature;
5% to 90% relative humidity, non-condensing.
Voltage:
182-242 VAC, 50 ± 1 Hz; 94-135 VAC, 60 ±1 Hz; DC input 20-34 VDC.