Verifone VX520 EMV
Verifone VX520 EMV
(Dial, Ethernet w/ Smart Card, NFC, EMV)
---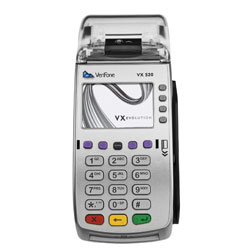 $141.98
No account or service required!
Availability:
Out of Stock. Permanent or unknown future availability!
Part Number(s): M252-653-AD-NAA
Compare the Verifone VX520 EMV with other popular equipment.
---
This is the NFC/Contactless version of the Verifone VX520. Please order the Non-NFC VX520 if you don't need NFC or contactless compatible equipment.
Check for compatibility! - The VX520 comes in several versions, and some part numbers are proprietary to specific processors. We strongly suggest you check with your processor to ensure this terminal is compatible. The models we offer are all non-locked, non-proprietary versions, while the Elavon specific model is proprietary to the Elavon processing platform.
The VX520 is the newest generation countertop terminal from VeriFone. It has a variety of processing configurations including dial, Ethernet, GPRS wireless and comes in NFC and Smart Card (EMV) compatible configurations. The VX520 is a compact and rugged terminal and depending on the configuration should meet the needs of current and future processing protocols for many years to come.
Please select the version of the VX 520 that you need in the dropdown box.
Similar Products

Dejavoo V8S+ Contactless
From: $223.98

Equinox Hypercom T4220
From: $340.98

Verifone VX570
From: $290.98